Dankoff Solar SlowPump

The Dankoff rotary vane Solar SlowPumps can be operated solar direct, off of a battery bank or from an AC source (see model specifications on the spec sheet link below to determine which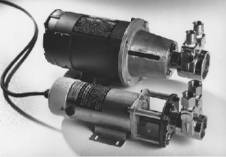 models can be operated at what voltage). The SlowPumps can draw water from a shallow source (well, spring, lake, river, etc.) and push it as high as 450 ft. vertically and through miles of pipeline. The low flow rate of the SlowPumps minimizes the size and cost of the solar array, wiring, and piping.
Rotary vane pump head is made of forged brass, carbon-graphite, and stainless steel, which typically lasts 5-10 years. Just like the Booster pumps, the SlowPumps must have a filter installed on their inlet since they don't tolerate dirt or sand very well. You can use the same filters/foot valve for the Booster and SloPump, so please consult the table below for your SlowPump filtering options. The SlowPump is NSF approved for drinking water, handles sea water/dissolved minerals, and is able to survive most freezes. A one-year warranty on the SlowPump protects against defects in materials and workmanship. Please click on the Solar SlowPump spec sheet to determine which model will best suit your needs.
Accessories for Dankoff Solar SlowPump and Booster pumps:
EZ 2900 install kit (brass manifold, ball valve, check valve, pressure gauge, pressure switch, hose bibb, and fittings)

$139

10" filter

kit

$89

2-pack 10" filter cartridges

$14

30" filter/foot valve

assembly (plus spare filter)

$110

3-pack 30" filter cartridges

$50

Dry run switch

$77

Motor brushes

Call

We offer numerous pumping accessories (float switches, pressure tanks, repair kits, replacement motor brushes, submersible pump wire, splice kits, pitless adapters, poly pipe, disconnects, etc.). If you don't see what you are looking for here, please email or give us a call at 1-877-627-4768 and we'll do our best to find it.

If you purchase your system from Oasis Montana, system discounts will apply. Call for more information.